CHIKARMY Insider and Frisby! (Chikarasaurus Rex II Preview)
.
Welcome to yet another edition of CHIKARMY Insider! Trios is now far in the distance, the glorious Aniversario hangover has subsided and the Midwest triple shot should arrive on DVD by next week. All this adds up to one thing: Chikarasaurus Rex: King of Sequel! Though it's clear now that Osaka Pro's Atsushi Kotoge & Daisuke Harada would've taken this opportunity to cash in the three points they won during the KOT (Night 3) Tag Gauntlet for a shot at the Campeonatos, they will sadly not be in attendance. Also, unlike last year's C-Rex, the stars of Dragon Gate will not be featured! So how, you ask, could this weekend have me exceedingly excited without these elements?! How about a dash of World of Sport-era greatness? Joshi stars?! El Generico?!?! HEY COLT CABANA!!! A full rundown of the announced card lies ahead!
.
.
.
What is destiny? Destiny is a young man from Switzerland winning a one-in-a-million chance to chase his dream of becoming a professional wrestler to the United States. Destiny is a 6' 5" physical phenomenon walking into the doors of a relatively diminutive lucha libre company with a yearning to learn. Destiny is two men with a planetoid of disparity between them, two trainers of one wrestling school…with the same prize in their sights. Mike Quackenbush & Claudio Castagnoli first met each other in the ring during a 2003 Tag World Grand Prix match featuring some fateful alliances: Claudio teamed with Ares, Quack with SuperFriends cohort Chris Hero. Naturally, they fought to a draw. Two years later, at the 2005 TWGP, Claudio would align himself with Hero after Chris turned on Quackenbush in the finals on the tourney, ending the SuperFriends forever and giving birth to the most powerful tag team in the sport: The Kings of Wresting. The faction would grow and shrink and grow again over time, but the hatred Quackenbush shared for Castagnoli & Hero would stay strong. With Hero, it was like a brother stabbed him in the back. With Claudio, there was no said bond. No brotherhood. Even after Claudio destroyed the Kings in Chikara and joined Quack as co-head trainer at the Chikara Wrestle Factory, the two men were never on the same page. They have teamed only once in their long history and it ended after Claudio "accidentally" uppercut Quack, allowing him to be pinned. The very next night, Castagnoli did the same thing again…only this time, it could not be mistaken for an accident. He looked Quack in the eye and drilled him to the mat. Moments later, his hands were formed into the shape of a cross, the first time anyone in Chikara (fans included) had seen this gesture. Six other men & women joined him. The Bruderschaft des Kreuzes had been born. Betrayal defines the very relationship of Chikara's best-known competitors. All-time, Quackenbush has one singles win over the Swiss giant, while Castagnoli has beaten him one-on-one in Chikara, wXw, CZW, IWA-Mid South and even Ring of Honor. Now there's more at stake than pride or bragging rights. The 12 Large: Summit will determine a new Chikara Pro champion, and the match pitting trainer versus trainer will put one man in prime position to book a trip to the finals. It's been almost three years since they've faced off in a singles match. Ironically, it was the last installment of the very tournament they first met: Tag World Grand Prix 2008. Claudio low-blowed Quack and put him away once again. Castagnoli the cheater, Quack the stalwart veteran. The more things change, the more they stay the same.
.
Fire Ant is a former Campeon de Parejas, former Young Lions Cup tournament winner, Tag World Grand Prix winner and the leader of this year's King of Trios winners. Jigsaw was the very first Cibernetico winner, one third of the first King of Trios winners, a former YLC champion and one half of the current Campeones de Parejas. A more decorated pair in Chikara, you'd have trouble finding. However, there's one thing that neither man has done: faced off against one another in a singles match. They've been in two battle royals, a "Historic" eight-man tag, two Golden Dream matches, a Cibernetico and even a tag team title match. That contest took place this year, at Creatures from the Tar Swamp. With the score tied at two falls a piece, Jigsaw planted Fire Ant with a Super Rack Bomb, getting the pin and denying The Colony another run at the gold. They haven't squared off since then, but Fire Ant does have a big advantage in that he's not coming off a major injury. This will be Jig's first match back after sitting out for two months healing from a torn bicep. It's been a landmark year for Fire Ant, and getting his first two points in the 12 Large tournament would be a great way to continue that trend into the foreseeable future.
.
Thought they have always been on the opposite sides of this war, the personal vendetta between Green Ant and Tursas truly blossomed at the Fan Conclave of this year's King of Trios. During a challenge to see if anyone could slam the Viking, Green Ant emerged as the final applicant. Just as he seemed like he was about to slam him, Jakob Hammermeier cut his legs out from under him. During their contest that night, Green Ant made good on his previous attempt, bodyslamming Tursas to the mat and tapping Hammermeier on The Colony's way to immortality. "This is it, Tursas." Green Ant wrote on the Chikara blog. "Now is the time to get the wheels turning, to get this show on the road! I've heard and read enough of your anti-CHIKARA, anti-American nonsense, and I know I'm not the only one. I know there are plenty of fed up, proud Americans all across this great country that are just waiting for someone to shut your mouth. Well, it's time to show those people that there are still heroes out there. Whether they're in Waxahatchie, TX or the big city of New York, NY, I want the people to see that even someone as big and powerful as you can't take on someone who's being backed by the pride and passion of their people. So here's what it all comes down to, big man. I'm making the challenge. You and me, one on one! July 30th in the Chikarasaurus Rex, just weeks after one of this nation's proudest days. Mark the date, Tursas. Because when Green Ant rolls into Reading on July 30th, I'm going to go Red, White, and Blue all over YOU!" Tursas was fast to respond: "[Green Ant] is misguided with notion that this voyage will give him strength to fight Tursas, let alone conquer Tursas. What will be done to me, Green Ant? Will you pour American poisoned river water down my gullet? Feed me abused and chemically altered meat from your livestock? Trap me to chair and try to kill my mind with your juvenile American culture? These are your best options, young Ant, because you have no physical recourse against Tursas. Not black magic bones, not "special" holds taught to you by fools, not any matter of determination can alter pre-destined conclusion. Tursas victors while you lay crumpled in own mess, struggles to breathe, body going to shock. Red blood leaking from your skull, skin turning chalk White from internal failure, and lips turned Blue from collapsed lungs cutting off air supply. 30 July, you become self-fulfilled vision for America. Fractured, feeble whelp alone in a world of men. And on that day, I will stand and salute your destroyed form."
.
You want to know why this match is important? You wanna know why Johnny Saint and Johnny Kidd squaring off in Chikara is such a big damn deal? In late 2007, Saint returned after a DECADE away from wrestling to take on Kidd. So yeah…there's history. Instead of trying to quantify how cool the British style of catch wrestling can be, just watch these two videos below. LDN Wrestling posted Saint's entire return match online!
[youtube http://www.youtube.com/watch?v=ybUIjpUI7ik&w=425&h=349]
[youtube http://www.youtube.com/watch?v=JZNY0iKoX1o&w=425&h=349]
.
With several exceptional ladies being flown in for C-Rex weekend, it was clear that Sara Del Rey & Daizee Haze would be facing some serious competition, just like they demanded so very long ago. They will be paired with Makoto, an Ice Ribbon and NEO standout who has held both the ICEx60 Singles and International Ribbon Tag Team championship. An obvious candidate to oppose a squadron of such talent would be Madison Eagles, the current SHIMMER Champion. However, she took to the Chikara blog to spill some terrible news: "On April 19th, I was in a car accident that at the time didn't seem so bad. I initially suffered whiplash and had my whole neck and back seize up with spasms. Only after getting work done on my neck to release it enough to be able to turn my neck, did my shoulder and arm show signs of a nagging problem. Only after spending time getting x-rays, MRI's and seeing specialists, did I start getting answers. A S.L.A.P. tear and two places with Tendonitis that are not healing by themselves. All of which cause great pain in day to day activities, let alone when it comes to wrestling and weekly training sessions…and, to say the least, health insurance in the USA is quite different than at home in Australia. So if I can't compete at my best, or get the right treatment here, what can I do? I need to take the high road, unlike every other time I have been injured, and take myself out of active competition." So instead, Makoto & the BDK will take on Tsukasa Fujimoto, an Ice Ribbon ace who has held multiple championships within the promotion (including all of them at the same time), Mima Shimoda, a revered wrestling veteran who has held titles in AJW, NWA, NEO and UWA, and Portia Perez, a former SHIMMER Tag Team champion who will be making her return to Chikara after almost four years.
.
.
.
The night after Johnny Saint and Johnny Kidd face off against one another, they will do so again in a tag match featuring some dream partners: Saint will reunite with Mike Quackenbush while Kidd will team with Chikara veteran Colt Cabana! Each man has a unique history with the other. Saint and Quack, along with Skayde, formed "The Masters of a Thousand Holds" for the 2009 King of Trios tournament. Quack and Colt are two of the only men in all of American wrestling that regularly employ the catch styles of men like Saint & Kidd, and they haven't been in a Chikara ring together since the main event of the very first show. Kidd specifically requested teaming with Colt, with whom he had a fantastic World of Sport Rules match in 2004. I guess that leaves Saint and Colt in need of some historical connotation. Uh…I've seen Cabana employ the Lady of the Lake brilliantly about three dozen times or so. Does that count? Whatever. It's much more fun to watch these guys go at it than it is for me to gush over them anyway! Since I already showed you some goodness from the Johnny's, this video is of the only singles contest between Mike Quackenbush & Colt Cabana I could remember, from the 2006 TPI tournament. It's low quality video, but the match is fantastical.
[youtube http://www.youtube.com/watch?v=mCgr0yEFgYY&w=425&h=349]
.
For lack of a better term, Eddie Kingston is on a monumental, near unprecedented tear. Since losing to Claudio Castagnoli by nefarious means at Creatures from the Tar Swamp, "The War King" has appeared on every single Chikara show with the exception of Night 1 of Trios. He has, in all solo contests, obliterated everyone in his path while amassing a perfect 8-0 record. He has also added a previously unseen wrinkle in his game: a guillotine choke, which he's now use to put down Chuck Taylor, Sinn Bodhi and Hieracon. After beating UltraMantis Black and gaining two points for free after Brodie Lee was forced to withdraw from their match, Kingston stands alone atop the Block B rankings of the 12 Large: Summit. In Philly, he will oppose a man who, unlike so many others in Chikara, owns a winning record against him. Jigsaw, a night after facing Fire Ant for points, will do so against the dangerous Kingston. Though they have never done battle in Chikara Pro, they have faced off in three other companies: Kingston bested Jigsaw on a CZW show while Jig holds victories over "God's Middle Child" in Ring of Honor and Dragon Gate USA. Outside of Chikara, they are known to be friendly…as friendly as Kingston is with his fellow humans. In the early days of Chikara, Jigsaw would often team with King and his partner in the Wildcards, Blackjack Marciano. After fighting on the same side of things at The Cibernetico Returneth, the two shared the ring only once over the next FIVE YEARS. All that changed when the BDK arrived. After Lince Dorado revealed himself to be a member of the Bruderschaft during the eight-man main event of A Touch of Class, Kingston ran out to take his place. Jig & Kingston also fought on the same side of the most recent Torneo Cibernetico match. Now, for the first time in their Chikara history, Jigsaw, the future pack leader of Chikara, faces Kingston, the perennial lone wolf, one on one.
.
After revealing in a blog post that she would be leaving Chikara to deal with a severe injury, Madison Eagles also revealed something very interesting: who she voted for in the 12 Large: Summit. "I gave my very valuable vote for the 12 Large: Summit tournament to Sara Del Rey." She wrote. "Now I know you must be thinking I'm crazy, since it has been the BDK's Sara and Daizee that gave me the most trouble at CHIKARA. But despite that, I believe they both deserve so much more then what the BDK have given them. I respect those women. They are athletes of the highest caliber, and deserve to compete at the highest level – and they shouldn't let anyone stand in their way. Now Sara, you have the chance to do something for all the top females struggling in a male-dominated industry. Prove to the world that you are the very best! Do it and my vote will not be wasted!" Two days later, an irate Claudio Castagnoli felt he had to get something off his chest on the Chikara blog, too: "I'm sick and tired of this. Everybody thinks they know better. Everybody thinks they know what's best for themselves and don't want to listen. They are wrong. People who actually listened to me and aligned themselves with me have had big success. Whether in life, or here at CHIKARA. Two of the people who I thought had the most potential and were the biggest disappointment so far are Daizee and Sara. You two really need to shape up, and quickly. I am beginning to lose my patience with the both of you. Yes, I remember the reluctant looks on your faces when we told you your role wasn't to collect three points, it was to keep other teams from collecting points and taking the titles away from Ares and myself. Don't think I forgot that. Or how Quackenbush and Jigsaw got their 3rd point by beating the two of you in Philadelphia. Not voting for me at the 12 Large: Summit? Sara got 2 votes, as we found out, one was from Eagles and don't think I don't know where that other one came from. Daizee, I'm talking to you! I kicked people to the curb for less. How dare you? After all the opportunities I gave you? After we put you in the spotlight and made people take you seriously? And you, Sara. You've said a little too much. And you have failed the BDK once too often. But you will have your chance to be redeemed on July 31st in Philadelphia. Don't forget the job you signed up for. This is not a suggestion, this is an order."
.
The last time Ophidian and Icarus fought each other was at Clutch of Doom in February. Derek Sabato was the official, so his bias against Ophidian allowed Icarus to cheat the whole way through and choke the Portal member out illegally. They will fight again, this time with two points in the 12 Large: Summit on the line. Both guys are without a single win in the tourney: Icarus lost an incredible match to Sara Del Rey and Ophidian was felled by Quackenbush after a Super Black Tornado Slam. They have faced each other on many occasions, but never with this much at stake.
.
There are matches that need selling and there are matches that sell themselves. Let's see if we can quantify this contest, shall we? We have El Generico returning to Chikara for the first time since he won the Rey de Voladores over The 1-2-3 Kid, a reuniting of his fan-beloved King of Trios team with Scott Parker & Shane Matthews, Generico facing off with UltraMantis Black for the first time, with Frightmare for the first time, and with Hallowicked for the first time…in Chikara anyway. (Name That Show!) Speaking of The Spectral Envoy, they've yet to actually win a match as a trio. That's…not so good. Still, they are as beloved to Chikara fans as Soldier Ant's salute, so maybe they'll finally get themselves a big win. Wait, how did I start this write-up? With lots of snarky nonsense, right? I don't know. This match will rule. Here's a video of a Silver Bullets promo, a duo that is still nervously hovering over a rotary phone waiting for Chikara's call…which is totally coming any time now. I'm seriously losing it.
[youtube http://www.youtube.com/watch?v=mJIB1_fILSs&w=425&h=349]
.
.
.
.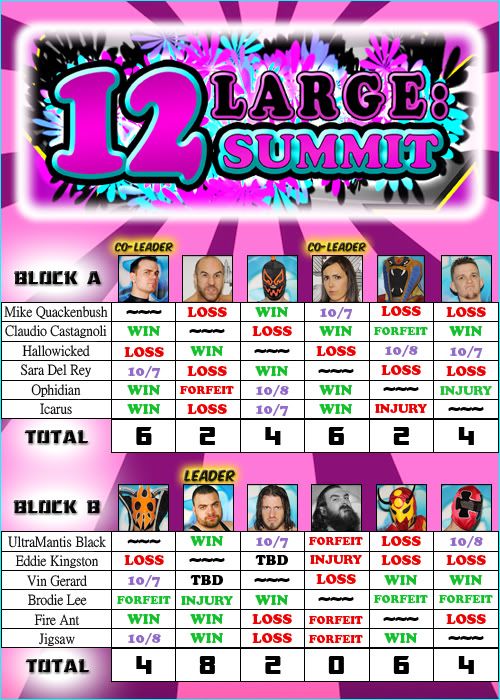 .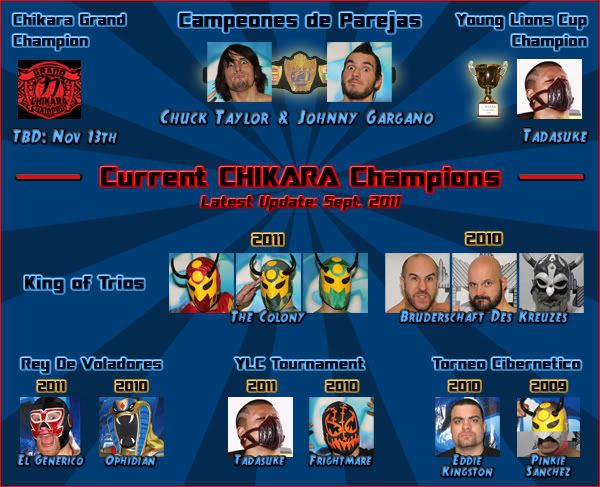 .
.
Please leave any comments or questions you might have and I'll do my best to respond with as many hypnotic Japanese lullabies as I can conjure. I'd like to do a contest or something cool like that, but I'm not sure how much interest there'd be. Let your voice be heard! Also, let me know if there's anything you'd like to see in the column, like fantasy booking, treasure hunts, wish-lists, secret handshakes, etc.
.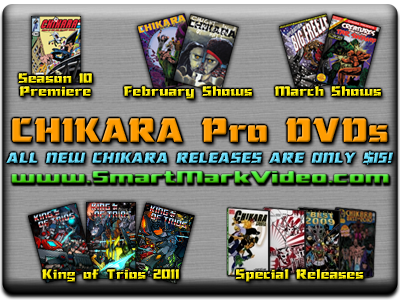 .