Chikara iPPV Review: High Noon
.
FINALLY! Chikara Pro hosts it's very first iPPV on Go Fight Live! High Noon is jam-packed with several years worth of storylines. The Bruderschaft, who infiltrated and run rampant throughout Chikara for the past two years, has never been more vulnerable. They've lost 4 members, including co-leader Claudio Castagnoli, and their power dwindles. Tonight, former BDK-er Sara Del Rey takes on Jakob Hammermeier, Green Ant finishes his epic battle with Tursas and the rest of the willing brotherhood, leader Ares and self-proclaimed leader Tim Donst take on UltraMantis Black and Hallowicked in a No DQ Ultimate Stakes Match! Colt Cabana battles Archibald Peck for the rights of adorable animals everywhere, media sensation Gregory Iron battles Icarus, the most disgusting man in wrestling and The Colony battles The Young Bucks for a future chance at Chikara tag gold. But there will be no tag titles defended on this show, oh no. This is all about Chikara first singles title ever: the Chikara Grand Championship! In the company's decade of existence, Mike Quackenbush and Eddie Kingston have never battle one-on-one. That streak will end in the main event of what promises to be one of the most watched iPPVs in history! All eyes are on Chikara…and they plan to deliver!
.
~ Gavin Loudspeaker welcomes us to show as we get set for the opening contest!
.
1. Future Tag Title Shot: Fire & Soldier Ant vs. The Young Bucks w/ Marty Jannetty
Both squads have two points, so this will determine who gets the win, third point and a future tag title shot. Matt Jackson starts off trying to stop Soldier Ant from saluting, but he eats a dropkick. Fire Ant gets a few fast sentons in, Matt Jackson eats a tandem flapjack and Nick eats a saluting headscissors. Nick dives out onto Fire Ant though, allowing The Bucks to hit a tandem X-Factor on Soldier inside. Nick & Matt take control and work over Soldier Ant. The crowd gets behind Soldier Ant but The Bucks keep him grounded in their corner. Nick & Matt continue to turn more and more rudo as the match goes on, with Matt saluting Soldier while he stomps away at him. Referee Bryce Remsburg and former Director of Fun Leonard F. Chikarason are excellent on commentary, as usual. He tags in Fire Ant! FIRE ANT GOES CRAZY! He sends The Bucks outside and crashes onto them with a flip dive to the outside. Back in, The Colony hit double dropkicks, double boots and a tandem cradle brainbuster! 1…2…Matt breaks up the count on Nick. All four guys drill each other with sick shots. Matt eats the Yahtzee Kick from Fire Ant! Brainbuster! 1…2…Matt kicks out. Fire Ant looks for Beach Breaker. Matt blocks and hits a series of hard powerbombs! TANDEM TOMBSTONE! 1…2…Soldier Ant breaks up the count! Soldier tries to fight off both Bucks but eats tandem superkicks! Fire Ant eats them, too! The Bucks look for a DOUBLE Bang For Your Buck, but Soldier Ant gets his knees up to block! Matt misses the moonsault! Cradle from Soldier! 1…2…3! The Colony gets the win and their third point! They've got a future date with F.I.S.T. for the Campeonatos de Parejas! Extremely fun match that picked up a lot at the end. Lots of unique spots here, too. Can't ask for a much better opener.
.

2. CHIKARA vs. BDK #1: Sara Del Rey vs. Jakob Hammermeier
Del Rey, who left the BDK earlier in the year after facing the same obstacles in the group that she did outside of it, faces the bottom rung of The Bruderschaft here. As usual, Jakob does his own grand entrance. Del Rey is on a big win streak right now, having won the Torneo Cibernetico the previous night. The crowd wishes Del Rey a well-deserved happy birthday as Del Rey bends Jakob with various submissions. The crowd wants Hammermeier to tap from a headlock! Amazing. Del Rey kicks away at Jakob inside and outside the ring. Jakob takes advantage with a choke but Sara obliterates him with chops. She gives Hammermeier a hairmare but Jakob takes control again with a choke. Jakob disposes of one tie…only to choke her with ANOTHER tie. He tries to poke Sara in the eye but she nearly breaks his finger off in response. Abisegiri in the corner! Roundhouse to the head! German Suplex! AXE KICK TO THE SKULL! 1…2…Jakob kicks out! Wow! He gets a backslide on Del Rey! 1…2…Del Rey kicks out. She locks on the Royal Butterfly and plants him with the Royal Butterfly Suplex! 1…2…3! Del Rey gets the win over the lowest member of the BDK. This was an extended squash match that was pretty hilarious. That ending stretch was even nastier than I expected, especially the Axe Kick. Sara really should start finishing with that.
.
~ Someone named Mr. Touchdown is coming to Chikara. We don't get a look at him, it's just stock video of football being played. Okay then.
.

~ Gavin announces the arrival of Amasis & Ophidian: The Osirian Portal! This is Amasis's first Chikara appearance since April of 2011 after suffering a terrible injury in a car accident. Amasis grabs the stick and thanks the fans for their response. Amasis says that he's gutted, but he will NOT be returning to wrestling. The fans are heartbroken. He says the doctors have told him the risks are too great. He says he doesn't want to focus on what he's lost. He wants to focus on what The Portal accomplished: wrestling all around the world, holding Chikara tag team gold, setting YouTube on fire with their dance moves, etc. He says he's sad to see it end and that the Osirian Portal has had a rotten year, but he must retire. Amasis tells them to hit their music so they can do what they do best: dance! They start doing their thing and OPHIDIAN MISTS HIM! Dropkick to the back! Amasis is in severe pain after the assault from his partner! Ophidian continues to assault Amasis, applying the Death Grip and stripping him of his mask! Ophidian finally relents his attack. He grabs a mic and, holding up his former friend's mask, says, "Problem……solved!" He exits to a chorus of boos as trainers help the fallen Pharaoh to the back.
.

3. CHIKARA vs. BDK #2: Green Ant vs. Tursas
These two have been at war for a long time now: the BDK's biggest brute versus Chikara's breakout star of 2011. Green Ant's still the only man who has slammed Tursas. The referee here is Derek Sabato, who always favors the rudos. Almost immediately though, Tursas accidentally splashes Sabato! He's out! Green Ant drops Tursas, Nick Papagiorgio runs down to officiate the rest of the match and The Colony carries off Sabato! Tursas hits a SICK Finlay Roll and an elbow drop. 1…2…Green Ant kicks out. Running splash to Green Ant but Greenie fires back with a SICK spike DDT! Green Ant hits a crazy running dropkick, but only for two. Greenie goes for his cloverleaf but Tursas pushes him away, hitting a big backdrop and a back suplex for two of his own. Green Ant comes back with a kick to the midsection but Tursas returns the favor with a dropkick of his own! The crowd chants for "USA" as Tursas continues to beat down Greenie. Tursas goes to the top for a moonsault…but Green Ant brings him down with a huge argentine slam! A dropkick sends Tursas outside! Tursas catches him as he dives but he comes back with a SICK kick to Tursas's chest! BODYSLAM ON THE FLOOR! YIKES! Green Ant is pointing to the top rope?! Oh my! TOP ROPE SPLASH TO THE FLOOR! Both guys are down and looking hurt. The referee nearly counts them out but they both finally make it back inside. The two trade headbutts and Tursas hits his crossbody! KRUEZ BOMB! 1…2…Green Ant kicks out! Tursas goes to the top again, but Green Ant meets him there! SUPERPLEX TO TURSAS! Green Ant applies the cloverleaf! Tursas will not tap. Green Ant finally drags him back to the center and…he applies a LEG-TRAPPED version of The Chikara Special! TURSAS TAPS! Green Ant submits Tursas with a submission we have never seen before! Crowd was too quiet at times, but they couldn't spoil the contest, which was more brutal than I anticipated. Tursas continues to look simultaneously more beatable but also more versatile. That is absolutely a good thing. Green Ant continues to look like a million bucks. I also like that the last Chikara Special version was debuted by an Ant, too. Of course, that turned out to be Pinkie Sanchez but…still.
.

4. Trios Rematch: Colt Cabana vs. Archibald Peck w/ Veronica & Colt Cabunny
Our post-intermission contest here. Archie, who lost to Cabana at King of Trios 2011: Night 3, has recently taken in Colt Cabunny, a large white rabbit, as a mascot. Archie has shown little regard for the furry fellow, including testing a hair tonic on him that turned parts of his fur green. Cabana has retuned looking for sweet vengeance against the Pecker. Marchie Archie tries to attack immediately but Colt continues to "accidentally" cause Peck to harm himself. The bell finally rings and we get going. Apparently Archie's feelings are hurt. He's just…he's just pouting now. Peck applies a grounded headscissors and Colt just kinda walks out of it. Archie is tripped, his own leg is sent into his face and he gets tripped again by a single push. AMAZING. Words could never do this justice. Colt gets a couple of hilarious roll-ups for two and calls for Cabunny. Peck uses the distraction to hit a nice top rope shouldertackle for two. Archie hits a flipping neckbreaker! 1…2…Cabana kicks out. Archie throws some elbows and drops Colt with a boot. Archie demands Cabunny attack Cabana…but he won't! Peck hits a nice leg lariat though and applies a sleeper. Colt IMMEDIATELY goes to sleep and everyone is shocked that Colt is asleep. Peck is very pleased as Colt sucks his own thumb on the mat sleepily. Peck calls for his diving headbutt. He flies through the air…and Cabana wakes up! The well is empty for Peck as Colt comes back with an Asai Moonsault! Series of rights from Colt, but Peck comes  back with some of his own, only to eat an elbow from Cabana! 1…2…Archie kicks out. Colt misses the Flying Butthole and Peck tries one, eating a sick rear to the face! 1…2…Archie kicks out! Peck manages to drop Colt and he comes off the top with the diving headbutt! 1…2…NO! Cabana kicks out! Peck drags Cabunny inside wanting h
im to attack Colt but he still won't do it! Cabunny ends up with Veronica's baton…HE DECKS PECK! Colt covers. 1…2…3! With Cabunny's help, Cabana beats Marchie Archie. After the match, Cabana and Cabunny dance and hop around the ring. It should go without saying, but I will: this was hysterical. The wrestling was very good, too.
.

5. One Final Confrontation: Gregory Iron vs. Icarus
It's very simple: Iron beat Ick and, thinking that no handicapped man could best him, Icarus has come to the enlightened conclusion that Greg is FAKING cerebral palsy. Needless to say, this one's a bit personal. Crowd is merciless towards Icarus, as a TON of people in the front row are wearing "Worst in the World" t-shirts to mock the F.I.S.T. leader. Iron is out to a nice applause as Ick continues to hear it from the crowd. Icarus finally unveils his hideous back tattoo and Iron levels him with a clothesline. Ick calls for a test of strength. Iron wins, hitting a series of big moves to get himself a two count. Uh oh. Stream died. I guess my HQ stream bit the dust. To the LQ stream! Iron is a house of fire, taking Icarus down with a rebound back elbow from the corner! 1…2…Icarus kicks out. Ick sends Iron outside but he eats a ton of chops. Ick reverses a whip and sends Iron shoulder-first into the steps! Icarus grabs a chair but the ref takes it away. Icarus uses the distraction to LEVEL Iron with his weight-loaded fanny pack. The count is on as Iron tries to stagger back inside. He finally gets in but Icarus drills him with the Pedigree! 1…2…Iron kicks out!  Ick goes for a second, but Iron blocks! STIFF elbow shots to Icarus! Bard-arm lariat! 1…2…Icarus kicks out but Iron applies the Crippled Crossface! Icarus is in trouble but finally breaks the hold. He distracts the ref, allowing him to hit his Blu-Ray DVD in the corner. 1…2…3. Icarus is victorious over the "Handicapped Hero". Afterwards, he tries to whip Iron with the ref's belt, but a hooded man comes out. IT'S GRAN AKUMA! Icarus's old tag partner is looking to take him out! Akuma goes to strike but Ick ducks and it's Iron who takes the kick. Akuma looks…goofy. God his face is ridiculous. The match, or what I saw of it, was okay. The best parts were when Iron was stiffing the crap out of Ick. The aftermath came off bizarrely as well. Hey, the HQ stream is alive again!
.
~ The Twitter handle "@MysteriumP" floats ominously across the screen. The account belongs to someone or something called Mysterium Populus. His personal bio, "If I don't promise you the answers would you go" are lyrics from (you guessed it) a Pink Floyd song called "What Do You Want From Me". Intriguing… *strokes beard*
.

6. No DQ Ultimate Stakes: UltraMantis Black (Mask) & Hallowicked (Mask) vs. Ares (Tyr) & Tim Donst (Hair)
No disqualification is pretty transparent, but ultimate stakes is a little muggier. Basically, if Mantis or Wicked get pinned they lose their mask, if Donst is pinned his head is shaved and if Ares loses he must surrender the Eye of Tyr, the jewel that Ares used to mind control Mantis & Wicked's friend Delirious. This war between Chikara and the BDK was started by UltraMantis, so it's only fitting that the fight has, as the Bruderschaft's numbers have dwindled, become more personal in scope. The fight starts immediately as all four men battle outside. Back inside, Hallowicked & UltraMantis double teams Ares for several two counts. Donst is sent outside and Hallowicked goes to fly but Donst reverses it, sending Hallowicked crashing into the guardrail. This allows Ares & Donst to double team Mantis in the ring, allowing them to punish him unchecked. Donst hits an STO for two. Ares this a senton bomb for two. Hallowicked takes out Donst though with Go 2 Sleepy Hollow and sends Ares outside. Wicked takes them out with a suicide dive as the brawling continues. They start fighting to the crowd, clearing out fans to fight in the seats. Ares and Donst hit SICK suplexes to The Spectral Envoy on the outside! Ares goes for a Toblerone Driver through four chairs…but UltraMantis backdrops him through it! Donst is tossed off the top through a chair inside! 1…2…Donst kicks out! Here's Hammermeier! Jakob is attacking Hallowicked. CROSSBONES IS OUT! He gets rid of Jakob as Hallowicked sends Donst head-first into a chair! PRAYING MANTIS BOMB! 1…2…Ares breaks it up! He goes for a Toblerone Driver…and connects on Mantis! 1…2…Mantis kicks out! Donst is coming in to save Ares…but he backs off! He leaves Ares to fight by himself! UltraMantis has him sized up…COMSIC DOOM THROUGH A CHAIR! 1…2…3! UltraMantis Blacks wins and regains the Eye of Tyr! Once again, the crowd was really only into the big stuff at the end. It's not like they did much of anything before that though. The brawling was pedestrian and the heat was near nonexistent save for some deafening Mantis chants. The ending stuff was BRUTAL though, and more than made up for a lackluster beginning and middle. It's time for the main event!
.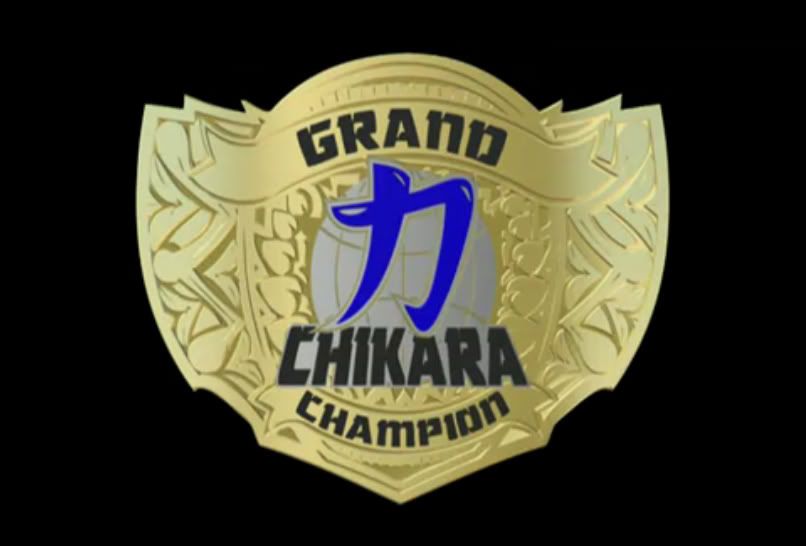 7. CHIKARA Grand Championship: Mike Quackenbush w/ Jigsaw vs. Eddie Kingston w/ Tommy Dreamer
Ten years and these two men finally do battle…with Chikara's first singles belt on the line! This is also the finals to the 12 Large: Summit, the title-crowning tournament whose names derives from a moniker used by the late Larry Sweeney. His death earlier this year shook the entire wrestling world. As a member of the Chikara family, his absence is felt no place more deeply than there. The mood is tense. Kingston is still favoring that knee injured by Vin Gerard, but he has come here to do battle. The fans chant for "Sweet & Sour" as match gets underway. Quack tries a few submissions but Eddie just shoves him away. Kingston gets in a stiff elbow shot as they lock up again. King hits a couple of nice chops but Quack gets around him and SLAMS his bad knee into the apron. Boos erupted from fans as Kingston lariats Quack on the apron. Once again Quack targets the knee, getting him back down to the mat and twisting on the knee. Eddie begs for more and Quack obliges with a kick to the face. Kingston locks on a choke but Quack grinds the knee, forcing him to release. Quack is positively ruthless with his working of King's knee. Eddie forces him away and the two trade reversals with Quack once again locking on a knee submission. Quack…HE POKES KING IN THE EYES! My word. He is eviscerating Kingston right now. The Chikara roster surrounds ringside and Eddie drills Quack with a boot. 1…2…Mike kicks out and applies another knee lock. Quack drills King with a palm strike! King comes back with a HUGE Backdrop! LARIAT! 1…2…Quack kicks out! Backfist blocked. Black Tornado Slam! 1…2…Eddie kicks out! Quack goes up top. Swanton Bomb! 1…2…King kicks out again! EVERYONE is out at ringside now: Reckless Youth, Colt Cabana, Hydra, Mister ZERO, etc. QUACK APPLIES THE LIGHTNING LOCK! Kingston manages to reach the bottom rope though. Quack hits Quackendriver 3! 1…EDDIE KICKS OUT AT ONE! Quack stomps King and heads north but he misses double knees, hurting his own knee! King is leveling Quack and they eventually head to the top rope. Quack knocks him off but Kingston Backfists his knee! KONDO CLUTCH! He scissors the hold! Quack looks done…but he finally makes it to the ropes. Both men get some quick advise from their respective seconds. The men rise to their fight striking. Lariat from Kingston! BACKDROP DRIVER! TIGER DRIVER! BACKFIST TO THE FUTURE…AND ANOTHER TO THE BACK OF THE HEAD! 1…2…3! Eddie Kingston is the Grand Champion of CHIKARA! Everyone is in tears as friends and relatives of Sweeney present Kingston with the championship. Eddie grabs a mic and tells the world that there is no better product, no better wrestling, than CHIKARA. He runs down CZW and TNA in the process. He says it with a passion and conviction unrivaled in professional wrestling. As for the match, the crowd was an absolute let down during the beginning of the match but they picked up at the end. This was an epic bout wrestled in front of a crowd that didn't seem to want to pop for ANYTHING but the big crazy stuff. Still, you can't deny the work both guys put in. Heel Quack might just be the greatest thing in the indys if he went full-on, but I have doubts that he would ever want to. Kingston as champion creates a plethora of title matches almost immediately against Del Rey, Donst, Jigsaw, Green Ant…and don't forget a rematch with Quackenbush.
.
.
Overall Thoughts
A very strong effort from everybody on the Roster tonight. The main event was as epic as I expected it to be, the tag opener was spirited and entertaining, Peck versus Cabana was a laugh riot and Green Ant versus Tursas was bigger and badder than I could have hoped. Del Rey against Jakob was a fun squash match but Iron/Icarus and the Ultimate Stakes tag match were two disappointments. While I'd still classify BDK/Envoy as a good match, it had moments of absolutely dreary work. The brawling seemed ineffective and the crowd uninterested. Icarus and Iron just had a flat-out mediocre match, nothing more or less. Again, the crowd did little to assist. Honestly, the fans really brought this shown down considerably. Throughout the evening, every match seemed mired with silence. This was supposedly a humongous crowd, but most seemed to sit on their hands or just quietly observe. The result was that the crowd came off slightly uninterested in many matches like the main event, which suffered because people just…kind of sat there. Sure they went NUTS for certain things and popped big for big spots, but over-the-top violence shouldn't be an expectation at Chikara shows and the overall tone of the iPPV was a reserved one, like people were waiting for something interesting to happen when it was RIGHT THERE! In front of Easton, Manhattan or even Reading, this might've been show of the year. Alas, the next iPPV will probably be in Philly once again. Hopefully the fans don't sit on their hands then like they did here, because the wrestlers left it all on the canvas tonight. They deserved better. They worked their tails off to achieve something beautiful. Despite a soft crowd, I believe they delivered. Kudos to Go Fight Live, too. The high-quality stream looked damn near DVD-esque and only had a minor hiccup. All in all, I had fun watching Chikara's first iPPV and I can't wait to watch it all over again with my dad, girlfriend and anyone else who enjoys wrestling.
.

.

.