Where Are All The Good Feuds?!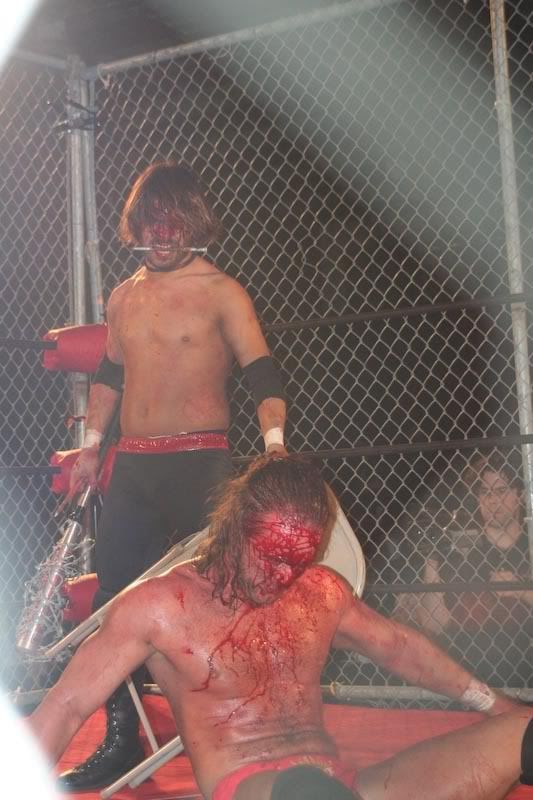 I've been following wrestling for the better part of my 31 years on this planet. As a huge fan of Memphis Wrestling and ECW in my formative years, I was conditioned to love a good wrestling feud. Whether it was a blood feud like Jerry Lawler vs. Eddie Gilbert (or Tommy Rich, Austin Idol, Jimmy Hart, Joe Le Duc, etc… for that matter), a personal issue like Sabu vs. Taz in ECW, or a rivalry based on wrestling like Rob Van Dam & Jerry Lynn, I loved them all. As I look across the independent wrestling landscape today, I just have to ask one question which is anything but rhetorical…where are all the good feuds?!
Wrestling was formulated from a carnival environment that was built on good vs. evil. I don't think I need to go over the history of wrestling's early days to explain how important a heated feud can be. Hell, even UFC promotes their biggest fights as a legitimate hatred between two men. It's that personal conflict that is so fascinating to fans.
So as I wondered originally, where are these good feuds today? There are certainly some fun things going on in various indy promotions, but there is a serious lack of well-built vendettas right now. Even in the recent past there were fantastic feuds, but here we are, in 2013, with not much of anything to speak of. Where are the BJ Whitmer vs. Jimmy Jacobs feuds that featured every single risk imaginable? Where are the Kevin Steen vs. El Generico endless wars that went from Canada to California to Manhattan? What about a feud that spanned multiple promotions like Chris Hero vs. Eddie Kingston? I'd even settle for Matt Sydal vs. Delirious!
Both ROH and PWG have recently begun some very interesting angles involving Adam Cole, but thus far, we as fans don't have a HEATED feud to hang our hat on just yet. I'm quite sure it's coming, but it's pretty odd that none of the major indy promotions have a compelling, endless (in a good way) series of matches between two guys with a score to settle. Is it because promotions like PWG or Beyond Wrestling (who do have some fun things brewing as well) just don't have the opportunity to run shows frequently, and thus, build a feud to an absolute finish? Like Jerry Lawler said on the Steve Austin podcast, a personal issue is ESSENTIAL to creating a believable conflict that will draw interest from a wrestling crowd.
Have the days of great rivalries died off? Should I just give up on seeing another personal war between two talents like Eddie Kingston and Chris Hero that travels from promotion to promotion across the U.S.? This is seriously lacking in independent wrestling today. For example, while talents like Alex Castle and Matt Cage may battle all across the Midwest in one great match after another, it's hard to believe that they truly hate each other. For fans that truly follow them, they would know that they team frequently as "The Daywalkers(among other nicknames)" after all. Keep in mind that's no knock on the talent involved in the feud, but rather some of the promotions and their completely different ways of booking them.
Is it a lack of communication and/or cooperation between wrestling companies that is causing this drop in interesting encounters? Don't get me wrong, all it takes is one promotion to build a feud and make it interesting, but as noted earlier, some of the very best independent wrestling rivalries were built on multiple companies (many with no ties to each other, whatsoever) featuring two talents with a score to settle. Maybe it happened a time or two, but can you imagine seeing BJ Whitmer & Jimmy Jacobs or Chris Hero & Eddie Kingston teaming frequently during their "hated" battles? That would be bizarre and harmful to the entire rivalry, in my humble opinion.
What about tag team feuds? I realize that there is a lack of great tag teams right now (not that there aren't a lot of good ones…just less of them than before) but do you remember the days of great tag team wrestling based on more than just fantastic matches? The Sheepherders vs. The Fabulous Ones spilled gallons of blood together! Speaking of blood, how about Gangstas vs. Public Enemy or PG-13 vs. damn near any tag team they ran into in the USWA? How about more recently? Steen and Generico vs. The Briscoes featured both match of the year candidates AND actual FIGHTS between two teams that were scratching and clawing for the top spot in ROH. The Young Bucks have had several memorable wars in PWG, but they've not had a tag team that can consistently contend with them show in and show out in a series of battles that could be remembered by wrestling fans for years to come. The American Wolves and reDRagon recently had an awesome series of matches that were based mostly on match quality, but it never felt like it got to that "next level" that we all look for in a solid rivalry.
What about some of the promotion vs. promotion invasions that have dominated wrestling history? There was USWA vs. SMW, USWA vs. ECW, ROH vs. CZW, and on and on. Currently, in Ohio, WAR and Rockstar Pro have an ongoing issue that isn't getting nearly enough press, but that's about the extent of the inter-promotional feuds. We have such a fond remembrance for all of these battles that felt so big and historic, but now where are the current ones? Wrestling is seriously lacking in this area. The importance of these companies and their "bragging rights" have gone by the wayside, which is a shame.
Some people might feel that the lack of blood in many promotions is a key factor in the lack of feuds, but I would disagree. I've seen a great deal of battles between 2 athletes that didn't involve blood, but that's a polarizing debate for another day. A "blood feud" can still be a blood feud regardless of a promotion's views on bleeding, so clearly that does not seem to be the issue that is holding companies back from having fantastic, believable clashes with an end result that means something to the fans. Feuds can be a success without having to be built on violence like the insane wars between Ian and Axl Rotten in the 90′s or Scotty Vortekz and Drake Younger a couple of years ago, but hey a little blood never hurts. Just remember, both of those feuds, while violent as hell, were spawned from a partner's betrayal.
At this point, it feels as though we are fans of independent wrestling simply because the matches are so superior (with no limits) to what we see on TV every week, but now, despite all the great contests, we're severely lacking a key component to what has made professional wrestling so much fun in the past. So again, I ask, where are all the good feuds?! If I'm being short-sighted and missing out on some heated rivalries that are currently being featured prominently in the U.S., contact me and let me know. I'd love to talk about them in a future article.
Want to discuss this article? Tweet me @PhenomenalTLD or email me at PhenomenalTLD@gmail.com
Follow the Indy Power Rankings on Twitter @IndyPowerRankin
New Indy Power Rankings come out every Tuesday morning!
You can listen to an audio edition of the Indy Power Rankings every Tuesday at http://weeklywrestlingpodcast.com/
You can "like" the Indy Power Rankings on Facebook at Facebook.com/IndyPowerRankings
Indy Power Rankings for the Week of September 23rd, 2013:
1. Drew Gulak
2. Adam Cole
3. Matt Cage
4. Benjamin Kimera
5. Eddie Kingston
6. Uhaa Nation
7. The Bravado Brothers
8. AR Fox
9. Alex Castle
10. Justice Jones